Northern Ireland water meters 'would cost £106m'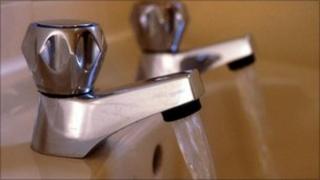 Installing water meters in every home in Northern Ireland would cost £106m, an assembly member has been told.
The figure emerged through an assembly question to Regional Development Minister Conor Murphy from Ulster Unionist Sam Gardiner.
Mr Gardiner said he was opposed to water charges, but feared they would eventually be brought in to address the weaknesses to the NI water system.
He said meters would be a fairer way of assessing water use than a flat tax.
In his reply to Mr Gardiner's assembly question, the minister said: "I have been advised by Northern Ireland Water that it estimates the cost of installing a water meter in all domestic properties would be in the region of £106m.
"This estimate takes into account the number of meter-ready chambers already installed at domestic properties since their use began in the 1990s and is based on current tendered rates for meter installation.
"There are circumstances where it may not be possible to fit a meter such as shared supplies, engineering difficulties and obstructions."
Mr Gardiner said meters "are a proven way of conserving water and cutting down on waste which is such a big problem for the Water Service in Northern Ireland.
"Meters typically reduce water consumption by 10%."