Elderly couple's home is attacked in Strabane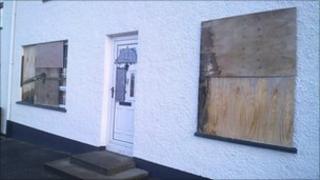 A gang has attacked the home of an elderly couple in County Tyrone.
Up to five people wielding iron bars smashed the front door and windows of their house in the Townsend area of Strabane.
The gang attacked the owner of the house when he chased them.
The chair of the town's District Policing Partnership, Eugene McMenamin, said his reaction was one of "absolute horror".
"This is an elderly man and his wife at home on a Sunday evening and a gang of unmerciful men come to their door to destroy their home.
"He did what any normal human being would do, and he tried to protect his home.
"Thankfully the man is still alive, but this could have ended up with him being seriously injured or even killed."