NI Water is 'looking into' MacKenzie embezzlement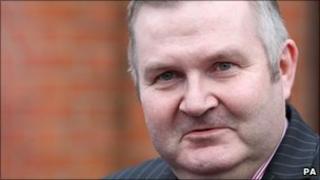 NI Water is deciding what course of action to take following the revelation that its former chief executive was convicted of embezzling £2,000 from a Church of Scotland in 1982.
Laurence Mackenzie resigned following the recent water crisis.
In a statement, Regional Development Minister Conor Murphy said he had been advised that NI Water was looking into the issue.
"The Minister was not aware of this issue until it broke in the media."
"He is advised by NI Water, as the employer, that it is currently looking into the matter."
On Monday, SDLP MP Alisdair McDonnell asked Environment Minister Conor Murphy to confirm whether he had prior knowledge of his spent criminal conviction.
Mr McDonnell said questions need to be answered following the revelation.
There has also been a call for the £96,000 severance package for the former head of Northern Ireland Water to be put on hold.
It emerged that Mr MacKenzie stole from his congregation while a treasurer in a Church of Scotland church in Caithness in the north of the country over 30 years ago.
Responsibility
Subsequent to his conviction, Mr MacKenzie studied accountancy at the University of Abertay before a career in privatised utilities eventually saw him in charge at Northern Ireland Electricity and most recently NI Water.
In December 40,000 homes and businesses were cut off from the mains during the recent crisis which happened after a rapid thaw caused pipes to burst across Northern Ireland.
NI Water was heavily criticised for its response, answering only a small proportion of the public's requests for help.
Following his resignation, Mr MacKenzie said his staff had made "tremendous efforts" but added that he "believed firmly in the principles of responsibility and accountability".
Last March, Mr MacKenzie ordered an internal probe into a number of contracts which he believed had not been competitively tendered.
When the review confirmed his fears, Mr MacKenzie was said to be so perturbed by events that he he tendered his resignation, only to later withdraw it.
Following the report, the Regional Development Minister Conor Murphy moved to sack four members of the NI Water board, including the chairman Chris Mellor.