Going nuts for squirrels in the Glens of Antrim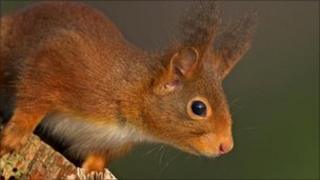 It is a far cry from the expansive plains of Kenya - but north Antrim is set to host its very own animal safari.
Tourism chiefs in the region are keen to cash in on the public's fascination with nature. However, visitors to the Glens of Antrim won't be searching for lions and rhinos.
Instead they will be on the look out for an altogether smaller species.
According to the Causeway Coast and Glens Heritage Trust a project has been developed in partnership with the Glens' Red Squirrel Group to develop a "Red Squirrel Safari".
It is proposed that the safari could stop off at several spots within the Glens of Antrim that are heavily populated by the rare squirrel.
A funding application has been submitted to the Big Lottery Community Wildlife Fund to deliver the initiative.
The project is one of a serious of plans aimed at using nature to attract tourists to the region.
Glens Red Squirrel Group chairman Joe Dowdall said the idea of the safari is to encourage visitors and locals to get out and about in the Glens.
He said: "If we get funding, we would put up storyboards at different locations within the Glens and roads in the areas.
"These would provide information about their habitats and how to spot evidence of where squirrels have been eating.
"Red squirrels feed on pine cones in a particular way -- they strip the cones from the outside so you're left with nothing but a stick.
"We're also looking at distributing maps to get people to locations where we would have feeders."
If you are not a squirrel lover, then fear not, because there are also plans to set up a "Butterfly Safari" project too.
A report by the trust said: "A Butterfly Safari project is being developed in partnership with Butterfly Conservation which would take the visitors on a butterfly tour throughout the three Areas of Outstanding Natural Beauty stopping off at excellent butterfly spots along the way with two events in the summer months to engage with the community and tourists alike."