2,000 hit by Fine Gael web hack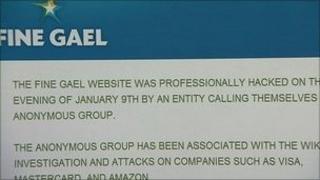 Hackers accessed the personal details of just under 2,000 people when they targeted a website for the Irish opposition party, Fine Gael.
The web page was allegedly targeted by the "Anonymous" group, best known for its attacks on companies opposed to the whistleblowing website WikiLeaks.
The hackers accessed phone numbers, email and personal computer details.
The party contacted the office of Data Protection Commissioner Billy Hawkes following the website attack.
It also contacted the Garda Computer Crime Unit.
In a statement on Monday morning, Fine Gael said it had emailed all of those affected to notify them.
Fine Gael set up the site last week, asking the nation for their thoughts on how to improve Ireland.
But it was forced offline on Sunday night after hackers attacked it removing the content and posting a message referring to censorship by the political party.
The official website slogan was replaced with the catchphrase, "The problem with politicians is they lie".
In a statement the party said: "The Fine Gael website was professionally hacked on the evening of 9 January by an entity calling themselves the Anonymous Group.
"The Anonymous Group has been associated with the WikiLeaks investigation and attacks on companies such as Visa, Mastercard, and Amazon.
"The website will be offline while we follow-up with the appropriate authorities to resolve the matter."
Visitors to the hacked FineGael2011 site were greeted with a logo of a suited figure whose head had been replaced by a question mark and the message: "Nothing is safe, you put your faith in this political party and they take no measures to protect you.
"They offer you free speech yet they censor your voice. Wake Up."
The site was launched to much fanfare last week by party leader Enda Kenny.
It features a video of Mr Kenny sitting at a coffee shop and asking the nation for their thoughts on how to improve Irish politics.