Ballymena alerts - two pipe bombs found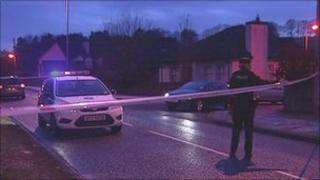 Two suspicious objects that sparked security alerts in the Ballymena area were pipe bombs, police have confirmed.
They were left at the Acorn community centre, Crosskeys Road, Ballymena, and at a Gaelic Athletic Association (GAA) club in Portglenone at the weekend.
A Catholic primary school was also targeted in alerts in Garvagh, Ahoghill and Portglenone.
Police carried out two controlled explosions at Crosskeys Road near Ballymena on Sunday.
The alert ended at 2300 GMT. Police have confirmed it was a viable device.
A suspicious device was also left at St Paul's Primary School, Ballynafie Road, Ahoghill, on Sunday afternoon.
School principal Martina McKillop said the device had looked very sophisticated but she had been told that it was a hoax.
"They had gone to a lot of bother to make it. It had batteries and wires and it was very realistic looking," she said.
Sinn Fein MLA Daithi McKay said he believed some of the attacks were connected.
"We were at the scene at the primary school. From that particular point it was no more than 10 minutes to the other two locations in the area - the Acorn centre and Portglenone GAC - where the other two devices were left.
"It certainly points to a degree of orchestration."
"It's disgraceful that anyone would want to harm young children in any way and it saddens me greatly."
In Garvagh, a car belonging to a Catholic family was burnt out in the Killyvalley Park area. The attack was reported to police at about 0200 GMT on Saturday.
On the same night in the same area, a house belonging to a couple in a mixed marriage was scorch damaged.