Green Party to elect Northern Ireland leader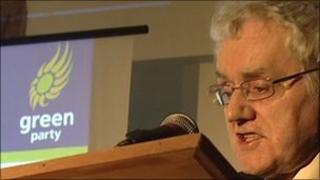 The Green Party in Northern Ireland will elect its first leader on Monday.
The party is organised on an all-Ireland basis and does not currenty have a separate elected leader for Northern Ireland.
Party spokesperson Steven Agnew and Down councillor Cadogan Enright are competing for the position.
The party also said it intends to field six candidates in the May elections. Selections will be confirmed after the new leader is appointed.
Last week, the party's only MLA announced he is to stand down at the next Assembly election.
Brian Wilson had represented North Down at Stormont since 2007.
Mr Wilson's research assistant and former European election candidate Steven Agnew has been selected to contest the seat for the Greens.