Six people rescued from apartment block in Belfast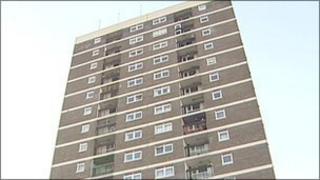 Six people have been rescued from the 16th floor of an apartment block in Belfast after a fire broke out.
It is understood the blaze started in the living room of the property at Grainne House in New Lodge at around 0330 GMT on Sunday.
A number of floors were evacuated and residents were moved to a community centre. One man has been arrested.
Fire officer Martin McDonald said it was a "very dangerous" situation for residents and firefighters.
"They had all been trapped in their flats due to the heavy smoke on the 16th floor," he said.
"Once the windows in the flat broke, the wind had a big effect.
"It intensified the fire but we were able to put all our training into practise and we got the fire extinguished fairly quickly."
Quick response
The flats are managed by the NI Housing Executive. Staff have been meeting residents.
The Housing Executive said it offered temporary accomodation to all the residents affected but this was refused.
"There is significant smoke damage, but it is hoped that residents who had to move to the communal area during the incident will be able to return to their homes later on Sunday, as that is what they have requested," a spokesperson said.
"The main damage is restricted largely to where the fire was started.
"Housing Executive staff are currently co-ordinating a clean up of the area and will liase closely with police and the fire authority regarding the incident."
Sinn Fein North Belfast MLA Caral Ni Chuilin praised the emergency services for their quick response in dealing with the fire.
She visited the scene on Sunday morning.
"The residents are doing great, they're holding up well despite the obvious trauma that they've been through," she said.
"Some of the residents are elderly and some have been living here for a long time and they're part of this community.
"I think they're just thankful that they're here this morning and they're all helping each other and looking after each other."