Helicopter air ambulance bid hits problems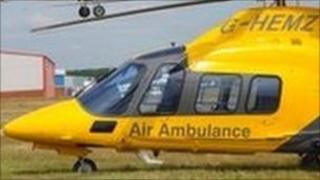 A charitable company formed to provide a helicopter for medical emergencies is to cease operating.
Ireland Air Ambulance was launched last year by a group of eight business and community representatives to take over the aims of a charity of the same name.
The previous company came under intense media scrutiny when a BBC investigation found that 90% of its donations were spent on wages and administration.
The new company said it "did not have the support of key stakeholders".
It said it recognised that without the support of key stakeholders, and with continued media and public speculation about the activities of the previous association, and in the best interests of the ongoing project, there should be no further activity by the company.
However, it welcomed the news that the case for an emergency helicopter service is to be examined by the Health and Social Care Northern Ireland (HSC).
The previous body had been in place for more than three years raising funds to establish a helicopter emergency medical service.
Its accounts had shown that for the three years from March 2008 to March 2010, it had raised £1,044,000 and spent £1,011,000 on running costs such as wages, salaries, expenses and overheads.
The new company had hoped to stabilise the position and form an organisation to prove a helicopter air ambulance.
Bill Megraw, interim head of the new company, said: "The new board and a small number of paid employees have worked tirelessly to turn around the situation, however they have accepted that they are no longer in a position to do so at this time.
"Our main aim is to ensure that the charity is wound up without any debts and to further ensure that when the HSC report is produced it will enable the project to move forward, as the main issue is that the people of Northern Ireland are not able to access such an emergency service unlike citizens in other neighboring countries."