Eamon Hughes murder accused admits having knife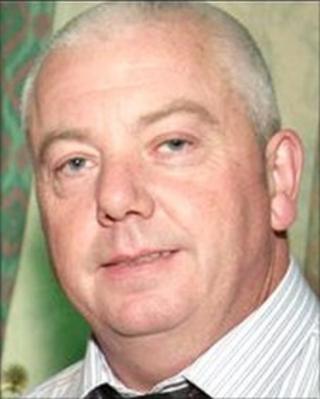 A man accused of murderring a Dungannon man in front of his family admits he had a knife "at some stage".
Martin Murray, 23, from Windmill Drive in Dungannon is on trial accused of killing Eamonn Hughes in September 2008.
Three other men are also accused of the murder which happened as Mr Hughes left his daughter's 18th birthday party.
All four deny the kiling as well as another charge of attempting to murder a woman and her daughter.
'Scuffle'
The three on trial with Mr Murray are his cousin Liam Murray, 24, from Windmill Court in Dungannon, 24-year-old Kevin Toye from the same street and 25-year-old William McDonagh from Kew Gardens in Ballymena.
Along with Martin Murray, they deny attempting to run over Martina Donaghy and her daughter Emma as they tended to the stricken Mr Hughes.
Kevin Murray, 41, from Lisnahull Gardens in Dungannon, an uncle to two of those on trial, denies attempting to murder Mr Hughes' son Kevin after he allegedly shot him with a crossbow bolt.
The Crown alleges that Martin Murray stabbed Mr Hughes in the chest as he walked back to his home in the Lisnahull estate and that Kevin Toye drove a hijacked taxi which ran over the mother and daughter.
Giving evidence in court on Friday, Peter Carey, a friend of Kevin Hughes, said he saw Martin Murray standing in front of the taxi with his arms out, holding a knife in his right hand "looking like he was going to go for somebody".
He said the car sped off, chased by Eamon Hughes and a number of others and that when they caught up with it, he saw a "scuffle" at the back of it.
'Veered'
Mr Carey told the court that afterwards when he saw Mr Hughes lying on the ground, he knew he had been injured but he did not know by whom as it "all happened so quickly".
Under cross-examination from Martin Murray's defence lawyer he agreed he had not told the police about seeing a "scuffle".
Mr Carey denied seeing any of the Hughes' arming themselves with belts or breeze blocks, claiming that he was focused on Mr Murray holding the knife.
The lawyer suggested to him that "right from the get go you were never going to say that you saw the Hughes clan in any violence" but he denied that telling him, "I only said what I seen".
When Mr Carey was being cross examined by a defence lawyer, acting on behalf of Mr Toye, he told the lawyer he was using his mobile phone to call for an ambulance when he saw the taxi coming back up the road "flat out" before it "veered" across and hit the Donaghys.
The lawyer put to him that another witness had earlier testifed that as she sat in her car, she saw the taxi driving up the road at a "perfectly ordinary speed" but he denied that replying: "No definitely not - it was flying."