Hurricane, the story of Alex Higgins, back in Belfast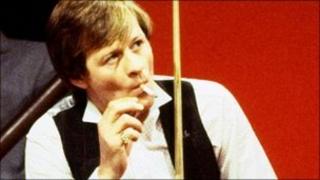 They say lightning doesn't strike twice in the same place but a Hurricane is set to make a return visit to Belfast.
'Hurricane,' the one-man show on the life of Belfast snooker legend Alex Higgins, is to be staged in his native city.
The award-winning one-man show written and performed by Northern Ireland actor Richard Dormer returns to the Grand Opera House later this month.
The show charts the spectacular rise and fall of the troubled Belfast-born snooker genius.
Alex Higgins, who was twice world snooker champion and twice runner-up, was born in March 1949.
He died in July last year after losing a prolonged battle with cancer.
A talented player since boyhood, he turned professional at 22 and become the youngest snooker world champion, taking the title at this first attempt.
Richard Dormer, a self-confessed non-snooker fan, said he had always thought Alex Higgins was "an incredibly charismatic and intense figure".
He said he decided to write the play after meeting Higgins in a train station in Dublin.
Alex, he said, told him he reminded of himself when he was a young man.
It was then, said Dormer, that he became determined to portray Higgins on the stage.
The show Hurricane won Richard Dormer the BBC Stewart Parker Award for New Writing and The Stage Edinburgh Fringe Best Actor award.
He is married to Rachel O'Riorda who directed the play.
Hurricane returns to the Grand Opera House on Tuesday 25 January and runs until Saturday 29 January.