60 North West Regional College staff get job warning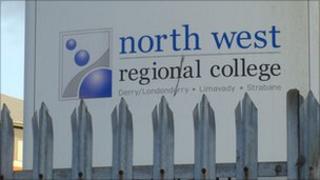 About 60 staff at the North West Regional College have received letters telling them their jobs are at risk.
David Limb from the University and Colleges Union, who received a letter, said that the affected staff were in a pool for 13 redundancies.
A spokesperson for the college said it had written to the staff associations over redundancies.
"Discussions are ongoing with staff representatives so there is no further update at this time."
Mr Limb said the redundancies were the result of "curricular decline in the areas of computing and business."
"The college has indicated that it was possibly going to make people redundant on the basis of the result of so-called overtraining and as a result of the comprehensive spending review.
He also said 3 management staff had lost their posts, but had not yet been made redundant.
Three Foyle MLAs, Raymond McCartney from Sinn Fein and the SDLP's Pat Ramsay and Pol Callaghan, have said they are opposed to any compulsory redundancies at the NWRC.
"All possible steps should be taken to avoid compulsory redundancies," they said.
"If savings need to be made then the College management should ensure that every possible alternative is exhausted before any member of staff is made redundant."
The MLAS are to seek a meeting with the Further Education Minister and the college's Board of Governors.