Chutes used in Belfast International airport emergency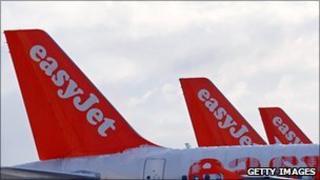 Passengers used emergency chutes to disembark from a plane at Belfast International Airport after smoke was spotted in the cabin.
The Easyjet flight from Liverpool on Thursday night had just landed when the emergency began.
Easyjet said that the measure was taken as a precaution and passengers were not in danger at any stage.
Earlier, a Flybe flight from Belfast City to Birmingham was evacuated due to an air conditioning problem.
Sixty three passengers and five crew disembarked when a strange smell wafted into the aircraft.
A replacement plane was due to depart 45 minutes later.