December 2010 'coldest on record' in Northern Ireland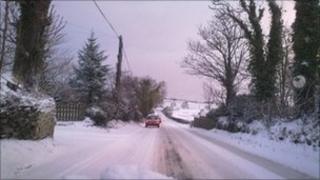 Last month was the coldest December on record in Northern Ireland, according to the Met Office.
It was also the coldest month recorded in the last 100 years with a mean temperature of -0.6 Celsius.
However, a sunshine total of 78.7 hours made December 2010 the sunniest on record.
The Met Office said 2010, with an estimated mean temperature of 8 Celsius, was the coldest year in NI since 1986.
It said the mean temperature for December 2010 was the first 'sub-zero' month in Northern Ireland since January 1963.
The month also saw a new record regional minimum temperature of -18.7C which was set at Castlederg, County Tyrone, on the morning of 23 December (the record fell twice in four days).
A new record regional 'low' day-time maximum temperature of -11.3C was also recorded at Edenfel (near Omagh, county Tyrone) on 23 December.
The longest sub-zero spell last month was 211 hours at Castlederg between 17 and 26 December, but the Met office said many inland areas experienced "a six or seven day period of extreme or exceptionally extreme sub-zero temperatures".
It said the freeze "in some inland areas may be the longest uninterrupted sub-zero spell since January 1881".