New head of NI prison service chosen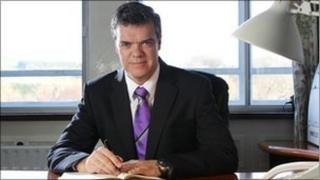 The Department of Justice has announced the appointment of a new head of the Northern Ireland Prison Service.
Colin McConnell, who was previously the service's director of operations, will take up the post of director general with immediate effect.
The justice minister David Ford said he believed Mr McConnell would bring a "wealth of experience" to the job.
The appointment comes just a few weeks before the initial report of a major review into NI prisons.
Dame Anne Owers was asked to conduct the review after a series of reports were strongly critical of the penal system.
A report published just before Christmas said that industrial relations in Maghaberry prison near Lisburn were "destructive" despite there being more staff working in prisons than there are inmates to supervise.
It also detailed how it was two and a half times more expensive to house prisoners in Northern Ireland than elsewhere in the UK.
'Privilege'
Mr McConnell takes over from Robin Masefield who announced his departure last summer.
The father-of-five began his career as a prison officer before moving through the management ranks.
He will be paid a salary of £100,000.
He described the appointment as a "great privilege" but added that he was "under no illusions at the scale of the challenge ahead".
"Change is never easy for any organisation, no matter what the size and I know that there will be difficulties ahead," he said.
"However, doing nothing is not an option and I am determined to work in partnership with others across the service to deliver the minister's commitment to reform the prison service."
Mr Ford said the new director general had his full support to deliver "necessary changes" in what would be an "important and challenging year for everyone in the Northern Ireland Prison Service".
Sinn Fein MLA Raymond McCartney, who is the deputy chair of the justice committee at Stormont, said that he was glad the position had been filled swiftly.
He added: "I am sure that Colin McConnell will be more than aware of the many difficult challenges facing the prison service here.
"We now need to see Mr McConnell get to work on the very serious issues of concern for many and to address them in an appropriate and professional manner."