NI Civil Service 'wins' Plain English award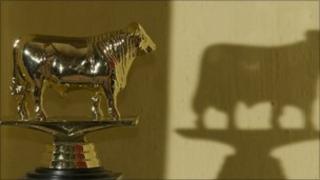 The Northern Ireland Civil Service has been given the dubious honour of a prize in the Plain English Campaign's annual "Golden Bull" awards.
The organisation, which campaigns against complex jargon, recognised the civil service for its instructions on how staff should take a half day holiday.
The instructions said: "If the annual leave request that you are entering is less than a full day on the First Day or the Last Day, then please select Hours from the drop down list of values in the Part Days Unit of Measure field.
"Then select the amount of hours absent on the first day in the Fraction of Start Date field or the last day in the Fraction of End Date field.
"If the absence is only for one day, use the Fraction of Start Date field to record the hours absent."
The civil service is in illustrious company with the Mayor of London Boris Johnson also given a "Golden Bull".
The former MP, who is known for his love of cycling, said he hoped the city's new bike hire scheme would create "a cyclised city of pioneers".
The Plain English Campaign was set up in 1979 and says its focus is on combatting "gobbledegook and misleading public information".