George Best painted out of east Belfast mural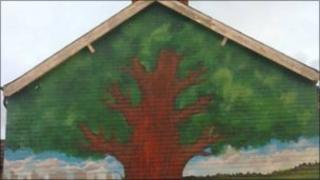 He was famous for painting the town red, but now a mural of George Best in his native east Belfast has been painted out of history.
The mural of the former Manchester United legend on the Woodstock Road was a popular attraction for tourists from around the world.
But now a decision has been made to replace it with another, to the concern of a number of people in the area.
Andy Moorhead of East Belfast Alternatives, which is in charge of the mural, explained the reasoning behind the change.
"We were trying to show the world and the rest of Northern Ireland and east Belfast there are more people from east Belfast contributing than just George Best," he said.
"It wasn't anything personal against George.
"We have had a few people saying they are sad to see George is down, he has put east Belfast on the map.
"It is a brighter mural, a positive mural about east Belfast in general and not just about football or just about one person, most comments have been really positive."
Japan
Elaine Fulton, who owns a nearby bed and breakfast premises, said she thought the original mural of George, who grew up on the Cregagh estate, had been a "good tourist attraction".
This view is supported by Norman McNarry, who is married to the football icon's sister, Barbara.
He said the Best family had not known the mural of George was being replaced.
"I have personally taken people there from Russia, Japan, Scandanavia and from all over the world who were extremely impressed by the mural," he added.
"Then when I drove past it one day, it was gone.
"It was such a popular mural amongst visitors who come to Northern Ireland."
The new mural, which is still in its formative stages, has a tree at its centre and organisers say it represents "a map" featuring the main arterial routes in east Belfast.
It is thought a number of well-known figures from the area will also be featured eventually, including a much smaller version of George.