Beds in NI hospitals face increasing flu pressure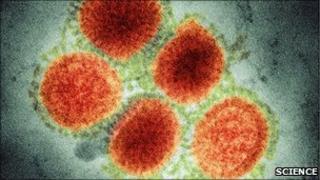 Thirty three of the 77 beds in Northern Ireland's hospital intensive care and high dependency units are occupied by people who have flu and flu like illnesses.
The figure was revealed by the Chief Executive of the Health and Social Care Board.
John Compton said the number of patients requiring beds in these units has increased.
More than 200 people are currently being treated for the virus.
The Public Health Agency (PHA) will release new figures on Thursday morning.
Mr Compton said some elective surgery will be postponed for a week in order for hospitals to "meet the need for specialist intensive care and other high-dependency services".
Patients who are affected will be contacted directly by their hospital.
'Least possible disruption'
Mr Compton said the position will be reviewed next week and said the decision was only taken following clinical advice from doctors in all of the health trusts and the PHA.
"All the partner organisations are working together to ensure this is managed diligently and with the least possible disruption to services and upset to patients," he said.
"What we are doing is carefully adjusting the planned intake of patients, so that intensive care and high dependency units maintain their capacity to cater for those people who are already seriously ill, or come into hospital as new emergency cases.
"This is a practical response to changing demand and we very much welcome the understanding and assistance of patients, particularly those whose appointments will be delayed."
The Health Minister Michael McGimpsey said he had been informed by the board that they will be increasing the number of critical care beds.
"Up to 40 extra beds will be made available for patients and there is scope to provide more if necessary," he said.
Prioritise
"We will need to prioritise our services for the sickest. This may have an impact on operations, some of which may be postponed for a short period.
"There is no doubt that this is a particularly difficult period, but as the pressure increases the health service is responding appropriately."
The number of people found to have the H1N1 swine flu virus in NI in the week before Christmas had previously doubled to 129.
The PHA is urging all pregnant women to get the swine flu vaccine.
The Department of Health had been accused of not revealing the full extent of the flu outbreak in Northern Ireland.
Nichola Mallon of the SDLP said not enough was being done to warn the public and she understood three people were in intensive care with the virus.
Ms Mallon said that in other parts of the UK there had been a coordinated policy built around advertising the threat level and how to protect the public, but this had not happened in Northern Ireland.
In response to a query about whether there were people with flu in intensive care in Northern Ireland, the Public Health Agency (PHA) said it would "not be commenting on any hospitalisations".
"We do not hold any data for hospitalisations as we do not ask the trusts for this data," the PHA spokesperson said.
"This was different during the pandemic as different surveillance methods were used."