NI views partial solar eclipse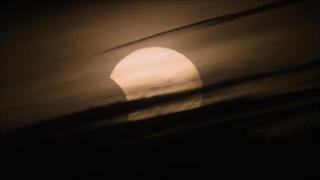 There is a lot of activity in our night skies at the moment and on Tuesday there was an opportunity to see a partial solar eclipse between 0800 and 0900 GMT.
Unfortunately due to a weather system shrouding most of Britain and Ireland opportunities to spot the eclipse between the clouds were few and far between.
However Andy McCrea, a member of the Irish Astronomical Association, was positioned at the top of Scrabo, outside Newtownards in County Down.
Mr McCrea was ready with his telescope and camera, when the clouds thinned and parted for just a few minutes, three minutes to be exact which allowed him to take these fabulous shots.
Many other keen star gazers had headed towards Knockagh, a war memorial outside the village of Greenisland in County Antrim, hoping to get a glimpse of the phenomenon.
But again the weather was a hindrance, as black ice on Carn Hill prevented them from getting to the monument.
Many other planets and stars are visible at the moment providing skies are clear; Jupiter, Uranus and Saturn for example.
The BBC'S Stargazing LIVE programme finishes on BBC Two tonight, hosted by Brian Cox and Dara O'Brien at 8pm.