Orange order elect Edward Stevenson as grand master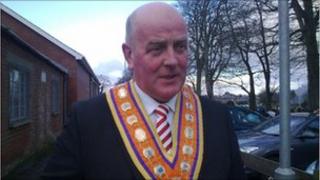 The ruling body of the Orange Order has elected Edward Stevenson as the new grand master at a meeting in County Londonderry on Wednesday.
Between 120 to 150 delegates attended from every district in Ireland.
Rev Alistair Smyth was elected as the deputy. They also elected a number of party officers for other posts within the Grand Orange Lodge of Ireland.
The previous grand master, Robert Saulters, announced that he was standing down last year.
He had held the post for 14 years.
Orange Order expert Clifford Smyth said Mr Stevenson who is from County Tyrone had been the "frontrunner" to replace Mr Saulters.
Mr Saulters became grand master at the height of the Drumcree dispute in 1996. Orangemen have been prevented from walking down the Garvaghy Road since 1998.
He headed an Orange delegation to meet Catholic all-Ireland primate Cardinal Sean Brady, the Irish government and the SDLP.
Mr Saulters refused to meet with Sinn Fein and the Parades Commission.
Under Mr Saulters' leadership the order severed its official link with the Ulster Unionist Party.
Order sources said neither that controversy, nor the recent death of his wife, are the reasons he is stepping down.
The meeting to elect a new grand master and other party officers is usually held in December but had to be cancelled because of the bad weather.