Gregory Campbell backs Conor Murphy no confidence vote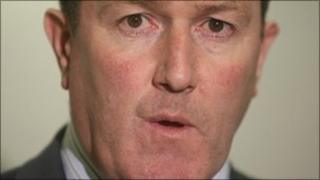 A senior DUP MP has said he would support an assembly no confidence motion in Regional Development Minister Conor Murphy.
Gregory Campbell said Mr Murphy should join NI Water chief executive Laurence MacKenzie in resigning over the Christmas water supply crisis.
Mr Murphy's department has responsibility for NI Water.
"There is not the confidence in the minister for regional development that there should be," Mr Campbell said.
"There are two people here who ultimately carry responsibility - the chief executive of NI Water Laurence MacKenzie and the minister who appointed him and his colleagues to the board, Conor Murphy of the department for regional development.
"They carry ultimate responsibility between them. They need to resign."
Mr MacKenzie is expected to step down over the crisis which affected thousands over the holidays.
Extreme cold weather followed by a significant rise in temperatures caused unprecedented numbers of burst pipes.
Both the SDLP and Ulster Unionists have said Mr Murphy, should also consider his position.
The SDLP's Conal McDevitt - who sits on the DRD assembly committee - said Mr Murphy had presided over a significant amount of political interference in NI Water.
"People will wonder why the only person who bears no responsibility for this is the one person who's been around for five years and that's the minister," he said.
"We asked him to set up a cold weather task force in order to ensure that the maximum amount of resources would be available for what we all knew was going to be a very severe bout of weather.
"He described those calls as nonsense - he dismissed them - he said it was 'an unnecessary level of bureaucracy, everything is under control I have total confidence in Northern Ireland Water and its management team'."
Ulster Unionist Fred Cobain is chair of the Regional Development Committee, which is to meet on Thursday to discuss the crisis.
He said "the issue rests with the minister and not Mr MacKenzie".
"At the end of the day in all of these issues the individual who leads the department is responsible and I have to say if this was any other part of the UK, or any other part of these islands, the minister would have been away weeks ago.
"This minister doesn't appear to accept any responsibility for anything.
He added: "It beggars belief I have to say, but it doesn't surprise me with this Executive, because nobody seems to take responsibility for anything."
'Smelling of roses'
Traditional Unionist Voice leader Jim Allister first proposed the no confidence vote on Mr Murphy.
"It's time to find out, does he have the confidence of the assembly. If he doesn't have the confidence of the assembly how can, or should, he remain," he said.
"If one's serious about saying this man should consider his position then if you're in an assembly with the power to put down a no confidence motion that's what you should do."
Sinn Fein's John O'Dowd defended his colleague.
He said NI Water had a contingency plan in place over the cold weather spell but had not implemented it properly.
"In fact they (their operational procedures) weren't brought into the book until Martin McGuinness and Conor Murphy made themselves present at a board meeting on boxing day," Mr O'Dowd said.
"They told NI Water directly that they were not operating the system properly, they were letting people down and they had to up their game."