Vandals dump 22,000l of water as families struggle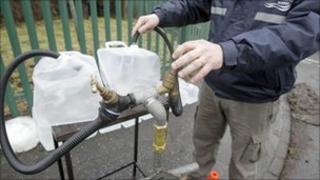 Vandals have opened valves on bowsers in County Tyrone and emptied out nearly 5,000 gallons (22,730 litres) of water.
About 2,000 homes in the area are still without a running water supply. NI Water filled the bowsers at Gortgonis Park, Coalisland on Friday for the weekend.
But during the night, vandals opened the valves and let the water run out.
It happened as NI Water revealed that 4,000 homes in Northern Ireland were still without supplies.
The worst affected areas are Cookstown, Warrenpoint, Burren and Hannahstown.
Northern Ireland's water crisis began before Christmas as a thaw in severe icy weather led to thousands of burst pipes at homes and businesses.
As a result, some people were left without water for nearly two weeks.
On Saturday, NI Water said that about 12,000 people in the Belfast area whose water was being turned on and off on a rotational basis should now have water.
Supplies may be rotated later in the evening.
As well as repairing the supply network, NI water says its staff are also inspecting private property for leaks. It is urging business owners and landlords to repair any burst pipes as a matter of urgency.
The company plans to refill the Coalisland bowsers later on Saturday.
Paddy Devlin who lives in the area said his family and neighbours have not had running water since 26 December.
"We are totally out of water - no drinking water and no water for toilets. We will never take water for granted again," he said.
Mr Devlin condemned the actions of the vandals who dumped the water.
"It's mindless and it is stupidity," he said.
"Whoever did this probably has water and they have no consideration for those of us who do not."
Francie Molloy, who is MLA for the area, condemned those responsible for opening the valves.
"People thought that because this service was being provided that people would respect it and just can't believe that someone would be so callous as to actually open valves and just let that water flow away," he said.
'Vital water'
"Strangers didn't come in to do this, it was local people and it's the local people that are actually being deprived of vital water."
NI Water has issued a list of places in Belfast where water supplies should be restored by 1200 GMT on Saturday. They are in BT5, BT6 and BT18.
These include Lawnmount Street, Ravenhill Street, Ravenhill Avenue, Castlereagh Place, Hollycroft Road, Willowfield, Castlereagh, Ardenlee Avenue, east Belfast and Depot Road, Holywood.
NI Water interim chairman Padraic White has said he hoped there would be a gradual improvement in the coming days as reservoir levels rise.
The latest NI Water update on disruptions is available here.