£10,000 windfall to restore Loughmacrory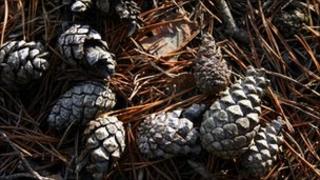 A project to restore Loughmacrory in Omagh has been awarded £10,000 by the Big Lottery Fund.
The plan is also intended to improve the health and well-being of people in the village of Loughmacrory, which takes its name from the nearby lough.
Loughmacrory Community Development Association (LCDA) received the grant from the Big Lottery Fund's Community Wildlife programme.
The programme seeks to bring communities together to improve their natural environment by raising awareness of threatened wildlife or places.
The LCDA will use the funding to improve the local lough area and encourage the growth of plant and animal life there.
As part of its 'Loughmacrory Alive' project the group will build small islets to attract wildlife and plant hundreds of native trees.
It will also train volunteers from the local community to help manage the natural environment.
Beauty
Kevin McElduff, chairperson of Loughmacrory Community Development Association, said the project would not only enhance the beauty of the lough, but would also help to improve the mental and physical health of local people.
"The community will benefit as they will be encouraged to go for walks around the lough which will be good for their health and will also educate them on the various plants and wildlife living there," he said.
"The project will hopefully also get them interested in their own area and encourage them to help look after it."
About 200 old spruce trees will be removed and replaced by up to 400 native trees.
Acid released by the spruce needles falling into the lough is harmful to fish and other water life. Wild flowers will also be planted around the bases of the new trees to encourage wild life.
Mr McElduff said the small islet "pontoons" the group plan to build in the middle of the lough would help to attract swans and mallards and hopefully encourage them to nest there.
The project will also monitor wildlife, including bats, moths and butterflies and educational viewing events will be organised for local people and school children.
"We hung some bat boxes last year and already they are filled with bats hanging upside down inside which the children really enjoy seeing," he said.
"We are trying to get the wider community involved with enhancing and maintaining this area, as well as improving its wildlife. In August this year 3,774 people visited the lough and this is testament to the many people who appreciate its beauty."