Ice destroys rescue charity's £50,000 pontoon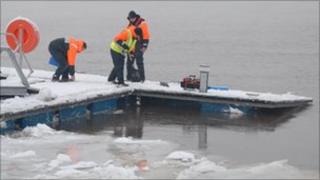 A river rescue charity has said ice on the River Foyle has destroyed a vital pontoon which allows them to launch boats from the Waterside.
Foyle Search and Rescue said large floes of ice drifting on the river crushed the ballast tanks which support the pontoon.
The charity's chairman Craig Smith said the damage would cost approximately £50,000 to repair.
The ice has also damaged one of the charity's rescue vessels.
"The pontoon is on the verge of sinking," said Mr Smith.
"The ice forms upstream and then when the tide goes out it carries it down the river.
"At the moment the ice is nearly a foot thick, and almost 7,000 yards across.
"We've been trying to break it up to keep it away from the pontoon, but the power of the ice is unbelievable, even a boat can't push against it.
"This means now that we can only launch from our other pontoon on the Cityside, which means some of the crews will have to travel across from the Waterside to get to the boat.
"We'll just have to try and keep the river covered and hope there aren't any incidents."