Paisley 'Spitting Image' puppet at London auction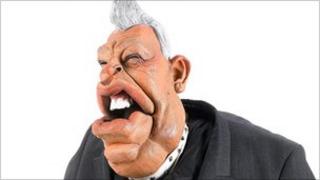 The public will get the chance to have Ian Paisley as their puppet when a caricature of the former first minister goes under the hammer later this month.
The creation which appeared on the satirical 1980s television show Spitting Image is 30 inches tall and has a latex head and hands.
It is expected to fetch up to £800 when it is put up for auction at Bonhams auction rooms in Knightsbridge, London, on 15 December.
Mr Paisley's puppet shows him in clerical garb topped off with studded white collar.
In terms of valuation it puts the puppets of two former Conservative cabinet ministers in the shade, with Sir Malcolm Rifkind and Lord Cecil Parkinson valued at between £200 and £300.
However, the DUP peer's value in puppet circles appears to have declined in the past 10 years.
In July 2000, a figure of Mr Paisley made £1,656 in an online sale by Sotheby's.
A puppet of Sinn Fein's Gerry Adams went for £1,693 in the same auction.