Belfast-based Andor Technology announces 50% increase in profits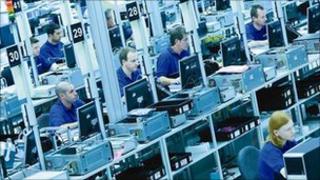 Belfast firm Andor Technology has announced its profits increased by 50% to £7m for the year to the end of September.
Andor also reported turnover up by 29% to £42.7m, compared to £33m a year ago.
Andor is a spin-off company from Queen's University, and one of Northern Ireland's few public companies.
It employs about 290 people, more than 200 of them in Belfast, making highly specialised cameras for use in research laboratories around the world.
Managing director Conor Walsh said the company's strategy was to concentrate on the regions which spend most on research and development.
"If you look at the worldwide spend on R&D, Asia-Pacific is up by 19% in the last three years, while the US is up by only 1%, and Europe is down by 4%.," he said.
"We trace where the spend is being made, and over the last few years that has been largely in the Asia-Pacific region. In fact, we have just opened a new office in Shanghai, and we are in the process of appointing a distributor in India.
Strong results
"Over the next 18 months or so, we will be announcing further investment in the Indian market."
Mr Walsh said the company distributes 15% of its profits to its employees, which means that they will receive a record bonus this year, amounting to two months' salary.
He said that in spite of the relatively modest growth in the US market, Andor had seen strong growth there with OEM customers, or original equipment manufacturers, who incorporate Andor cameras inside their own products.
"Most of their growth is in the Asia-Pacific region, so while we register it as a sale in the US, the real end-user is very often in the Far East."
Mr Walsh said that the outlook for the coming year was very encouraging.
"We are going into 2011 with a record order book, up 50% on the same time last year. So while we have had a very strong set of results for 2010, the outlook for next year is also very good."