Names released of separate County Antrim crash victims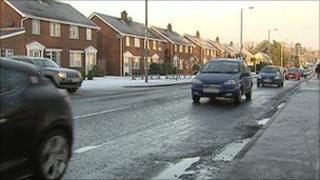 The name of the 53-year-old woman who died after a two vehicle collision in County Antrim has been released.
Shirley McCauley was killed in the accident which happened on the Frosses Road, close to Murphy's Old Filling Station, shortly before 1330 GMT on Sunday.
Ms McCauley was a secretary at Dalriada Preparatory School in Ballymoney.
In a separate incident Colin Weir, 33, from Monkstown, died in an accident in Newtownabbey, County Antrim.
Mr Weir was killed after being hit by a car on the Doagh Road at about 2250 GMT on Sunday night.
A second male pedestrian, also aged 33, sustained injuries and was taken to hospital for treatment.