Policing Board's Maskey says PSNI has enough officers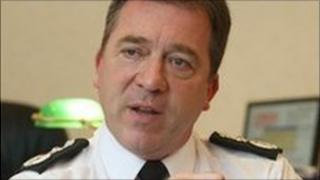 A Sinn Fein member of the Policing Board has disagreed with the chief constable's assessment that police numbers were reduced too quickly following the paramilitary ceasefires.
Matt Baggott spoke at the Ulster Unionist Party conference on Saturday.
The remarks were welcomed by Terry Spence of the Police Federation who said it was an "honest recognition that more resources are needed".
However Sinn Fein's Alex Maskey said the PSNI was adequately resourced.
"The police service is a sizeable organisation. The police have always said this to their own credit and have acknowledged that they have a lot of reform yet to complete," he said.
"The police service has enough officers and their difficulty is that they have not yet managed how best to use their personnel."
He was reacting to the chief constable's comment that cutting the police service from 13,000 to 7,000 was done with the best intention and no-one should be blamed.
Collective naivety
Terry Spence of the federation said it was a fair assessment.
"The federation has spoken out for the last few years and especially in recent months that we were jeopardising the peace by reducing police numbers and capability when the threat and incidence of violence were quite evidently growing.
"The chief constable says there is no-one to blame but frankly there has been a collective naivety and an overeager rush to portray normality by the Northern Ireland Office, by the PSNI until now and our political parties," he said.
"The obvious response to Mr Matt Baggott's analysis is for the Executive's department of justice and the Policing Board to get their heads out of the sand and insist on the necessary funding being made available and the recruitment of 1,000 more front line officers.
He added that the remaining 230 full-time reserve officers should not be released next March.
On Saturday, the chief constable said in the past 12 months, the PSNI had spent millions to counter dissident terror.
He said that the expenditure was needed to keep dissidents on the back foot.