Stena ends Larne to Fleetwood line and buys Belfast routes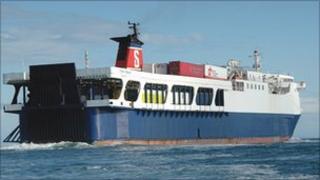 The shipping company Stena Line has announced that it is stopping sailings on one of its Northern Ireland to England routes.
The company said the Larne to Fleetwood service had been losing money. It plans to stop it at the end of 2010.
The closure will result in a total of 140 job losses - 62 from Fleetwood and the surrounding area.
Nigel Tilson, a spokesperson for Stena, said there will be no job losses in NI as a result of the decision.
The freight liner said in a statement there was "no option other than closure" of the route as it was incurring "serious losses" even with a number of cost-saving measures including using older vessels.
Stena has also announced that it is to acquire two routes to Belfast from Liverpool and Heysham which will create 195 shore-based jobs and 250 sea-based posts.
The two routes are currently operated by Danish shipping company DFDS.
Unconnected
Stena Line has agreed to pay £40m to purchase the routes along with four ships: the chartered Lagan Seaways and Mersey Seaways on the Belfast-Liverpool route and the freight carriers Scotia Seaways and Hibernia Seaways.
The acquisition still needs to be approved by the UK and Irish competition authorities.
Irish Sea area director Michael McGrath said the decision to close the Larne to Fleetwood route was unconnected to the DFDS purchase.
"The decision to close Larne to Fleetwood was taken some time ago on the basis of the current and projected performance of the route, and before the opportunity arose to buy these other routes," he explained.