Woman admits north Belfast killing of husband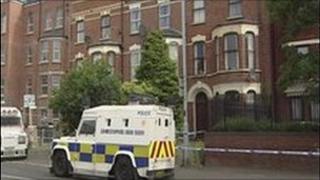 A woman accused of murdering her husband pleaded guilty to his manslaughter at Belfast Crown Court.
Days before her trial was due to begin her barrister asked for the charges to be put to Teresa Rafacz, 29, again.
Speaking through an interpreter Rafacz, from Glenvarlock Street, Belfast, plead not guilty to murdering her husband Piotr Rafacz but admitted manslaughter.
Prosecution barrister told the court on Friday her confession to the lesser charge was "acceptable to the Crown".
Rafacz' brother Pawel Czop, 27, from Clifton Crescent in north Belfast, was also in the dock on Friday.
Czop pleaded guilty to withholding information from the police in that he failed to tell the authorities that he was standing behind his sister when he saw her kick her husband three times in the head.
The body of Piotr Rafacz was found at the home the couple shared with their young son on the Cliftonville Road.
Mr Justice Hart released both Rafacz and Czop on bail and adjourned passing sentence until next January.
He said this was when pre-sentence probation reports would have been completed. He also warned the pair that it "didn't mean they would necessarily escape a prison sentence".
The judge added however that the Crown's acceptance of the manslaughter plea was, in his view "entirely appropriate".