Lisburn war memorial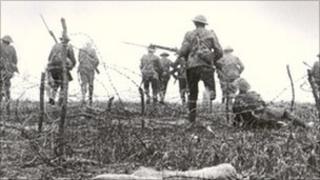 Lisburn City Council are seeking families of fallen soldiers for a new plaque at the war memorial in the city.
In a newspaper advert the council said they are "compiling a list of those citizens of the city "not already recorded who fell in the First and Second World Wars, also those who fell in the Korean, Falklands, Gulf, Iraq and Afghnaistan Wars".
The names will be engraved on a plaque on the existing memorial on Castle Street.
Councillor William Lietham said: "The council wants to ensure the memory of those who fought selflessly for other are never forgotten.
"I think now in the last few years family trees have become very familiar and a lot of people are doing research and are more aware of the sacrifices their uncles of grandfathers made in other conflicts.
"So we hope names will come."
Several years ago there was some refurbishment done on Castle Gardens where the war memorial is, and this included restoring the memorial.
At this time a family came forward who had noticed that the name of their uncle who had died in one of the World Wars was not engraved and after some research it was found his name should have been present.
From then on Lisburn Council decided on a policy to issue this appeal every few years in the hope that people would come forward with more suggestions of fallen soldiers.
The council were also keen to update the plaque to show respect for those who had died in more recent conflicts.
In May 2010, a corporal Stephen Walker, who was from the Lisburn area was killed in Afghanistan and his details will also be added to the plaque.
This will also coincide with the Council giving freedom of the city next year to the Irish Guards
The council said they have placed an advert in the paper to ensure all of those "who made the supreme sacrifice" are inscribed on the War memorial.
"The council now invites persones who have not previously made representation to write providing full details by no later than Friday 17 December.
They can contact Mrs Jennifer McKelvey, Lisburn City Council, Island Civic Centre, The Island, Lisburn, BT27 4RL.