"Disappeared" family of Gerry Evans prepare funeral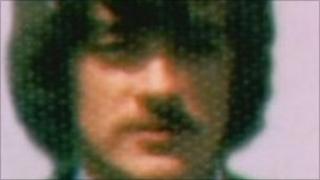 The brother of one of the "Disappeared", whose remains were found seven weeks ago, said he is grateful that those with information finally came forward.
Speaking as final preparations for Gerry Evans's funeral in Crossmaglen on Saturday got under way, Noel Evans said his family had waited a long time.
Mr Evans, 24, from Crossmaglen, went missing in March 1979.
His body was found on 15 October in County Louth.
Noel Evans paid tribute to his mother for her strength over a 31-year wait.
"My mother has finally got her son back. Saturday will be a bitter sweet day but it is great to have him home," he said.
Gerry Evans was last seen hitch-hiking in Castleblayney, County Monaghan.
The 24-year-old was believed to have been kidnapped and murdered by the IRA.
The remains were discovered shortly after the commission announced they were winding down the search at Carrickrobin after 16 months of painstaking excavation.
They had unearthed an area the size of four football fields but had found nothing. The family were devastated. At that stage, Noel Evans said they were losing hope that he would ever be found.
It is seven weeks since Mr Evans' body was recovered.
"The last seven weeks have been hard," he said.
"It was very distressing. We knew we had got his body back but the fact that he was still away from us was even harder."
Mr Evans said the support from the local community had been "unbelievable".
"Years ago, people were afraid. People, in their hearts, were aggrieved but they probably wanted to say it, but couldn't."
Mr Evans said his mother had had many tragedies to deal with.
"It is an honour for us to have her as a mother, she is so strong and she has given us the strength as well."
He said the funeral would be a chance to talk about his brother and to thank those who helped find him and those who provided the information.
"We went to thank people for finally coming forward and giving us the information. After 31 years, the information came through. The pain is still the same whether it happened 31 years ago or seven weeks ago."
Mr Evans' funeral will take place at 1100GMT on Saturday at St Patrick's Church, Crossmaglen.
Sixteen people were murdered by republican paramilitaries and secretly buried in isolated areas of Ireland during the Troubles.
Nine bodies have yet to be found.
In 1999, the IRA admitted responsibility for killing and secretly burying nine of the 16, while one was admitted by the INLA.