Northern Ireland potato shipment bound for Russia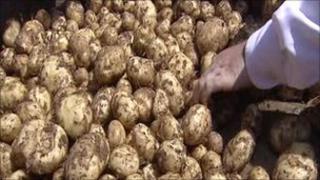 The first ever shipment of Northern Ireland potatoes to Russia has left Londonderry bound for Saint Petersburg.
The move follows a prolonged drought during the summer which resulted in Russian crop failures.
Local potato merchants have this week assembled more than two thousand tonnes of spuds at Lisahally port.
More than one hundred lorry loads have arrived at the port in recent days carrying produce from farms across Northern Ireland.
Potato merchant Eddie Craig of Cullen Allen said that while the hot, dry summer ended here at the end of June, the continent and Russia in particular continued to get hot weather right throughout the summer resulting in many of their crops being totally destroyed.
Such is the scale of the Russian shortage that another two boats laden with potatoes have already sailed from Drogheda and Greenore in County Louth.
Russian consumers will soon be tasting what may be unfamiliar varieties.
Helping organise the loading of the ship, Patrick Mckendry of Northern Ireland Seed Potatoes says the varieties on board are Rooster, Kerr's Pink, British Queen and Navan.
"They are mainly varieties which are just grown in Ireland and the Russians will not have come across these before," said Mr McKendry.
Merchants insist that after a bumper crop supplies of potatoes here are plentiful and even after the shipment to Russia there will be no shortage of spuds for local consumers.
The export order has been welcomed by farmers who have seen wholesale prices increase by around a third.
The Russian Government has taken a keen interest in the shipment and insisted the potatoes are sourced from farms guaranteed to be free of eel worm.
An official Department of Agriculture stamp on each bag will help reassure the Russian authorities there is no risk of introducing potato diseases or parasites.