Sinn Fein beats Fianna Fail in opinion poll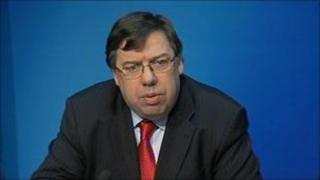 An opinion poll in the Republic of Ireland has placed Sinn Fein ahead of the leading government party Fianna Fail.
Support for ruling party has hit an all time low, according to the Red C poll by the Irish Sun, and now stands at just 13%.
Support for Sinn Féin has jumped by five points to 16%, leaving them in third position.
The main opposition party, Fine Gael, is down one point to 32%.
Labour are also down three points on the last poll to 24%, while the Greens remain unchanged.
Independents and others have also seen a rise in support of three points, according to RTE.
The survey of 1,000 adults was carried out on Monday, Tuesday and Wednesday this week, days after Sinn Fein's by-election win in Donegal South West and in the wake of the 85bn euros bailout by the IMF and European Union.
Red C also asked who they would like to see as the next Irish prime minister, with 8% backing Brian Cowen.
Labour leader Eamon Gilmore stands at 41% and the head of Fine Gael, Enda Kenny is at 25%.