Council admits blunders in 'biggest ever' land deal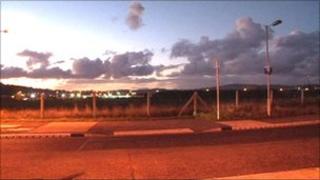 Ards Council has acknowledged it made a series of blunders regarding a multi-million pound sale of land.
A report by the audit office criticised the council for failing to secure the best price for the 15-acre site of a former abattoir on the Portaferry Road during negotiations back in 2003.
A public meeting was held in the council's chamber on Thursday evening to discuss the auditor's "Report in the Public Interest" - the first of its kind in Northern Ireland.
It made eight recommendations to the council in the wake of the deal and Ards Mayor David Smyth said it had "learned a very valuable lesson".
The report centred around a deal made by the council in 2003 with Castle Bawn Developments to sell the land for £7.25m.
But following the appointment of a new Chief Executive to the council in April 2004, concerns were raised about the progress of the contract.
The council began to investigate the circumstances surrounding the sale and informed both the Department of the Environment and the Local Government Auditor.
It re-entered negotiations, with the developers and managed to secure an extra £2m for the site.
The auditor's report described the deal as the "biggest" the council is ever likely to be involved in, but found significant mistakes were made.
The auditor said the council did not act on good advice given by central government and instead tried to get professional advice on the cheap.
The meeting also heard that the council failed to enforce contractual conditions it had stipulated regarding the sale, and officials did not keep councillors properly informed.
A ballot was put to the council on Thursday night with 14 councillors voting in favour of accepting eight recommendations by the auditor.
Mr Smyth added: "I wish to emphasise that it was the council's own scrutiny and review procedures which revealed the problems with this land sale and the council's own action which ensured ratepayers received £9m as opposed to £7.25m.
"The council has formally accepted the auditor's recommendations and there are maybe one or two we want to strengthen.
"I would hope that this will never happen again."