Number of 'hidden homeless' in NI grows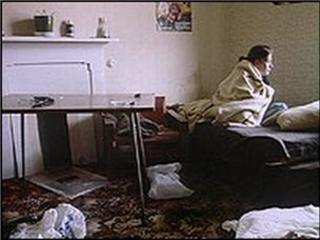 They may not be on the streets - but a increasing number of people in Northern Ireland are without a home to call their own.
Charities across the country are worried about the growing trend of "hidden homelessness", as many people continue to find them themselves unemployed and unable to pay their mortgage or rent.
There are no official statistics to help gauge just how big the problem is, but charity workers believe a rising number of people now rely on shelters, hostels and friends' sofas in order to stay off the streets.
Meabh Austin from the Council for the Homeless believes the current state of the economy is to blame.
She added: "It is developing as a result of the economic downturn and we have not seen the full extent of it yet."
The Simon Community runs a shelter for the homeless in Londonderry.
One man, who did not want to be named, had to turn to the charity when he lost his home and his job because of the recession.
Up until a few months ago he was a chef in a successful 90 seater restaurant and bar in England.
"We were lifting around £14,000 a week," he explained.
"It just went from that overnight to £4,000 a week. So the day came when the boss said we had to close.
"On top of that, the place I worked was my home as well. Basically overnight, in the space of an hour I became jobless and homeless.
"It was a real shock to the system. I was going into shops and buying jeans at £150 and £160 without a flinch, I was eating at the best restaurants, going to West End shows with my friends, but that all stopped."
'Help'
After weeks of moving around England and Ireland trying to find work and relying on friends to put him up, he was forced to seek help from the Simon Community.
The man added: "Friends soon get bored of you because you are not contributing to this lifestyle that they have.
"I was staying in a friend's apartment. He was working abroad, but he got laid off and had to come back home. Two people in a one bedroom apartment just does not work.
"So then I made what I call 'the call' to the Simon Community to say I was homeless and could they help me. They have me a bed thank goodness and they are helping me.
"They are helping me get on my feet."
The Chief Executive of Simon Community, Carol O'Brien said it is important that people know they are not on their own.
He added: "We may be able to help someone move into private rented accommodation.
"We may be able to move them into temporary accommodation like this facility here, without them feeling that it is a crisis and that they have got no options."
The chef added: "You have to count your blessings that you are alive. There are worse-off people out there who cant get the help.
"I am homeless, that does not mean I am a bad person. I am just down on my luck."
Thanks to the Simon Community, the young cook now has a place on a locally run employability scheme called Strive 2 Work.
It provides courses and workshops for the unemployed on a variety of subjects such as interview skills and counselling sessions to remove barriers to employment.
Programme Manager Gerard Diver said: "People come to us from various backgrounds and having had unique experiences and we will assist them and provide the skills that they need, the one thing that binds them together is that they're all looking for work in this very difficult time".