Dissidents 'handed guns to teen' after failed shooting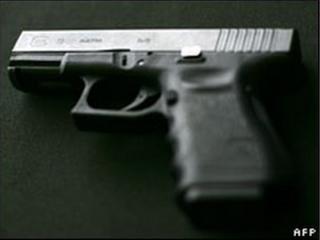 A suspected dissident gang handed over guns to a teenager following a failed punishment shooting, a court heard on Thursday.
The High Court was told four men, claiming to be from the republican group Oglaigh na hEireann, entered a house in west Belfast and tried to shoot a man in the legs.
When one of the guns jammed the suspects fled the scene and passed two weapons on to a 16-year-old boy. Details emerged as one of the accused, Stephen McAllister, was refused bail.
A Crown lawyer claimed Mr McAllister, 41, from Moyard Crescent, Belfast, was one of the four men involved in the alleged incident on St James' Road in July.
He faces charges of conspiracy to wound and attempting to wound with intent to cause grievous bodily harm, having a firearm with criminal intent, and possessing articles for use in terrorism.
'Seized'
One bullet was fired in the attack, inflicting grazing injuries to the victim before the gun jammed, according to the prosecution.
Another live round, ejected in an attempt to get the weapon working again, has been seized by investigators.
Video footage from a police helicopter recorded the gang leaving the scene of the attempted shooting.
The Crown lawyer claimed the men then headed for the Bog Meadows area where they met the youth a short time later.
The teenager was stopped by police soon after, while the alleged gang were detained in a car near the Falls Road, the court heard.
According to the prosecution, a pistol, loaded revolver and ammunition were all recovered.
It was alleged that Mr McAllister is linked to the incident by video, forensic and witness evidence.
The prosecuting barrister added that police have concerns that the 16-year-old co-accused may be vulnerable to intimidation.
A defence lawyer argued that bail should not be denied purely due to the seriousness of the charges.
But refusing the application, Lord Justice Higgins said: "The incident itself is one which has, over the last 30 years, been associated with paramilitary organisations seeking to impose some sort of justice within the communities in which they live."
The judge pointed out that any alleged association with such a grouping could lead to a risk of further offences being committed.
He added: "There is clearly a risk of interference with witnesses. I derive that from the circumstances relating to two people who were present - one of whom was shot, and the young vulnerable person who was (allegedly) detained with the firearms."