Iris Robinson on careless driving charge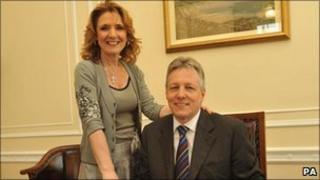 Former Strangford MP Iris Robinson has been charged with driving without due care and attention.
Mrs Robinson, 61, whose address was given as Gransha Road, Dundonald, was charged at Newtownards Magistrates Court on Wednesday. She did not appear in court.
It follows an incident on the Gransha Road on 18 October last year.
The case was adjourned and listed again for Newtownards Magistrates Court on 2 February next year.
In December 2009, Mrs Robinson, said she was quitting politics after admitting she was battling mental illness.
Allegations subsequently emerged over her private life and financial dealings.
She was treated in a clinic in London and returned to Northern Ireland in September.
She has not made any public appearances since stepping down from political life.