£22m Tyrone wind farm 'to bring 20 jobs'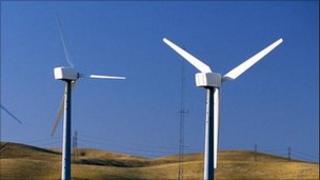 A new wind farm in County Tyrone will create up to 20 construction jobs, the company behind it has said.
Gaelectric, the Irish renewable energy group, has announced it has received planning approval for the 15 Megawatt (MW) farm at Inishative near Pomeroy.
The company says it will be capable of generating enough energy to meet the average annual electricity consumption of about 8,000 homes.
The total investment in the wind farm will be £22m.
It will feature six wind turbines with a maximum height of 64 metres and a maximum blade diameter of 71 metres.
The Planning Service said it had received 11 letters of objections to the wind farm.
Earlier this year, Gaelectric got planning approval for two other wind farms, a 15MW one in Carn Hill, Newtownabbey, and a 12.5 one in Cregganconroe, Pomeroy.
Brendan McGrath, CEO of Gaelectric, said the opportunities represented by wind power developments must be recognised.
"We have been progressing a number of wind farm sites in Tyrone and Antrim through the planning approval process for a number of years, which have required us to work closely with the NI Executive and planning authorities in Northern Ireland.
"These authorities recognise the importance of renewable power generation in a sustainable energy future and we are seeing well-prepared, viable projects successfully securing planning approval."
"The Inishative approval is a further important demonstration of policy makers, planners and energy companies working together to harness renewable resources, and an important further step for Gaelectric representing, as it does, our third planning success in Northern Ireland this year."