Tributes paid to SDLP 'heroine' Berna McIvor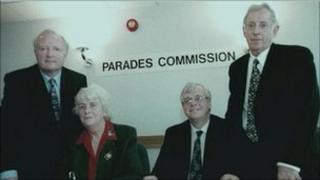 Tributes have been paid to the veteran SDLP activist Berna McIvor, who died on Tuesday.
Mrs McIvor was a well-known party activist in Londonderry, and John Hume's election agent for many years. She was also an SDLP trustee.
John Hume said he was "saddened to learn of the death of my dear friend."
"While she never sought the limelight she was unstinting in her dedication to her community, her country and to peace."
"From her involvement in the civil rights campaign Berna always remained true to her principles and convictions - her belief in justice, peace, fairness and equality never waivered.
"As my election agent Berna was a tower of strength through many dark and difficult times.
"I am very proud that her great counsel allowed us to enjoy so many remarkable achievements.
"I wish to express my deepest condolences to her family at this time."
The Foyle MP Mark Durkan said she was a "towering stalwart for the SDLP not just in Derry but throughout Ireland.
"She also contributed to public life through other channels of service including the Western Education and Library Board, the Foyle Trust, as governor of schools, on the board of the Verbal Arts Centre, and as an active supporter of many groups and causes.
"Berna believed totally in public service and gave of herself not just in her public appointments but in many personal comitments.
"Even in the darkest days of the Troubles, Berna believed in the importance of democratic non-violent politics and she always believed in the potential for peace, stability and shared institutions.
"She impressed and inspired so many people who all now share the loss felt by her beloved family, and my thoughts and prayers are with them at this time.
The leader of the SDLP, Margaret Ritchie, said Berna McIvor was "true heroine of the SDLP and a cornerstone of the party".
"She was a courageous, principled and determined woman who was never afraid to speak her mind or stand up for what she believed in.
"The SDLP has lost a leading light in Berna McIvor."