Third NI prisoner released by mistake in two months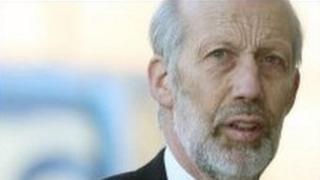 Officials are due to brief the Justice Minister David Ford after a prisoner was released in error by the Prison Service.
Sean Gerard Cahill was released after appearing at Laganside Courts on 24 November.
He then failed to turn up at Lisburn Magistrates' Court on Tuesday.
Cahill is the third prisoner released in error from prison within the last two months.
The justice minister has called for an immediate disciplinary investigation into the case.
Cahill had been convicted and sentenced to one month imprisonment on a charge of aggravated vehicle-taking.
He was released at that point due to the time that he had spent on remand awaiting trial.
However rather than being released, Cahill should have been returned to custody pending a further hearing scheduled for Tuesday 30 November.
The second hearing was in relation to charges of robbery, possession of an offensive weapon and taking a vehicle without the owner's consent.
The error came to light when Cahill did not appear at Lisburn Magistrates' Court on Tuesday morning.
David Ford said: "I have demanded that a disciplinary investigation be launched immediately into this most serious matter.
"It is vital that we urgently find out why this has happened, and if individuals are to blame I will move swiftly to take the appropriate action.
"This is the third time in a matter of months that a prisoner has been released in error and I share the public anger that will naturally follow this latest serious incident."