Portadown charity collapses with over £12m of debt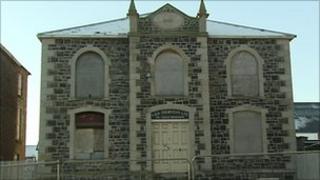 A Christian charity, which had once planned to buy Presbyterian church headquarters, has collapsed with debts of more than £12m.
The Thornton Trust was set up as a charitable company in 2001 and registered as a charity in 2003.
It had borrowed more than £19m to finance the purchase and renovation of investment properties.
However, it was unable to meet loan repayments after a huge fall in the value of its property portfolio.
The Thornton Trust was set up by members of a long-established Portadown Methodist business family to support good causes like medical research, education and local heritage.
In 2005 it agreed to buy Church House in Belfast for around £5m but the deal later fell through.
The charity's main assets were properties, mainly in the Thomas Street and High Street areas of Portadown.
It also borrowed more than £19m from Ulster Bank and Bank of Scotland Ireland to finance the purchase and renovation of investment properties.
More recently, the Thornton Trust has not been in a position to buy anything.
Due to what it called "a significant reduction in the level of income" it has been unable to meet its loan repayments.
In its last set of accounts, published this October, but covering the period up until the end of October 2009, the charity showed an operating loss of more than £760,000.
The accounts showed that due to that performance the directors believed the banks would withdraw their support and as a result the company should be liquidated.
When the properties were revalued for liquidation purposes their value fell by £18.3m.
That meant that a £6.6m surplus in the charity's assets became a £12.6m deficit.
The collapse of the Thornton Trust has left a string of unfinished buildings in the centre of Portadown. Some people are also still owed money.
The BBC attempted to contact the Trust's Directors for a response to the collapse but were unable to.