Grandfather killer Eamon Coyle's term "unduly lenient"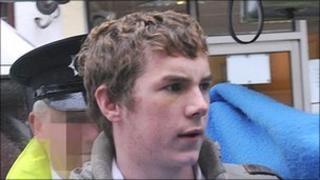 A teenager who confessed to killing his grandfather is to have his sentence reviewed by the Court of Appeal as "unduly lenient".
Eamonn Coyle, 17, strangled and stabbed his grandfather Francis O'Neill in April last year.
He was sentenced to 12 months detention with two years on licence after he pleaded guilty to manslaughter.
Leave will now be sought to refer the sentence to the Court of Appeal.
Coyle, formerly from Holmview Terrace in Omagh, was 16 when he killed his grandfather for £80 to pay his rent.
He was originally charged with murder. Then, in September, the prosecution accepted his plea to the lesser charge of manslaughter.
At the time of sentencing Mr Justice McLaughlin said while he was certain Coyle never intended to kill his grandfather, or even to seriously harm him, he had gone to his home "for the motive of theft or robbery".
The judge said he accepted Coyle posed no future risk to the public, and that he would recommend to the new justice department that while on licence Coyle undertook a life skills and educational course and that his movements and associates be closely monitored.
The Chair of the Justice Committee at Stormont Lord Morrow criticised the sentence as "inappropriate" and said it sent out "the wrong type of message".
A spokesperson for the Acting Director of Public Prosecutions James Scholes said on Tuesday he would be seeking leave to refer the custodial sentence "on the grounds that it is unduly lenient".
It is unclear when the application for leave to appeal Mr Justice McLaughlin's sentence will be heard.