Dermot Ahern will not contest general election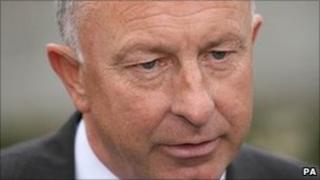 The justice minister in the Irish Republic, Dermot Ahern, has said he will not contest his parliamentary seat at the next general election.
Mr Ahern said after the 2007 election he came to a decision that would be his last one.
He said he told Irish Prime Minister Brian Cowen of his intention in October and confirmed this last weekend.
Mr Ahern said that in the last 18 months he was diagnosed with rheumatoid arthritis.
He said this required "heavy medication" and he had been advised that a change in his "pace of life is essential in coping with this condition".
Mr Ahern said he had told his Cabinet colleagues of his decision on Tuesday morning.
He has spent 32 years as a public representative, serving as a councillor for 12 years, a TD for 24 years and minister for more than 13 years.
His announcement means that one of Mr Cowen's most experienced ministers will not be playing an active role in the most challenging election for Fianna Fail in years.