NI councillors to rule on planning applications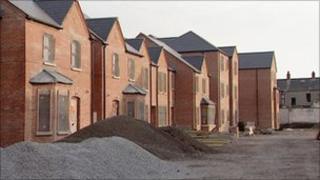 The environment minister has announced details of what he has described as the "most sweeping reforms to the planning system for 30 years".
Edwin Poots said a planning bill would return control of planning to councils and would eventually mean councillors making most planning decisions.
He added that the Planning Service would be abolished and staff absorbed into his department.
The proposal is based on plans to reduce the number of councils to 11.
The six divisional planning offices will be reduced to five area offices, which the minister said would be designed around the 11 "council clusters".
The bill, which the minister hopes to put before the Assembly next week, has been agreed by the executive.
Pilot schemes
Major planning decisions, like the proposed John Lewis development, will remain within Mr Poots' department.
It is understood the proposal will would allow for the setting up of pilot schemes in April 2011 and then rolled out across all 11 council groups by the following year.
The minister said the bill would be accompanied by a consultation paper on a "system of checks and balances which will ensure openness, transparency, and equality in councils".
It would mean that any councillor who abuses the new system would be banned from public office for five years.
Mr Poots rejected suggestions that such decisions were better taken by civil servants.
"That could have been said of the political process where we had people who had no connection with the local community making all the decisions under direct rule," he said.
UUP MLA for Lagan Valley and Lisburn city councillor Basil McCrea said that the new system could prove a double-edged sword for local representatives.
'Popular'
"Councillors often take populist views because they do not have to take decisions," he said.
"Now, they are going to have take decisions that in the main will not popular."
Mr McCrea also warned of the dangers of councillors making the wrong decisions and ending up in extensive and potentially expensive litigation.
The transfer of planning powers to council is seen as a key element of the review of public administration, which seeks to streamline the public sector.
Councillors in Northern Ireland last had responsibility for making planning decisions in 1973.
The powers were removed along with responsibility for housing allocation amid accusations that the some decisions were the result of political bias.
SDLP MLA Patsy McGlone said he broadly welcomed councillors involvement in planning but warned that the system must have "fairness and equality" at its heart.