Gritters return to parts of Derry after weekend attacks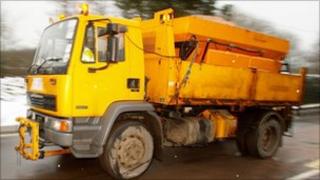 Gritting lorries returned to parts of Londonderry on Monday night after community workers took to the streets to prevent more attacks on crews.
The evening service was withdrawn from Creggan and Gobnascale on Sunday after young people threw stones at gritting lorries.
The window of one vehicle was smashed.
Community worker Stephanie English, who accompanied one of the gritters, said it was "able to come in with no difficulty at all."
"We had up to 25 volunteers out on the street last night and we placed them at flashpoint areas.
"Once the young people saw we were all around the area they didn't engage in anything.
"We spoke to the driver briefly and he said it went very well."
Sinn Fein councillor Kevin Campbell travelled ahead of the gritter in Creggan.
"Any pockets of youths we saw we stopped, had a chat and they moved on.
"It was an uneventful night."
Keith Cradden from Roads Service said the gritting went "extremely well" and he was "very grateful to the community workers".
"Because of their direct intervention gritting in those areas was carried out last night without any problems whatsoever."
Widespread snow showers on Monday night have caused a second day of disruption on the roads in the north west.
Altishane Primary School in Donemana and St Caireall's Primary School in Castlederg are closed.
Road roads conditions are difficult, and drivers are advised to exercise extreme caution.