Cold weather prompts cash payment in Northern Ireland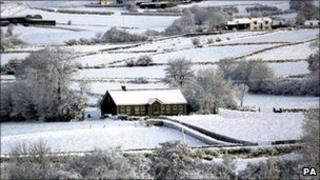 The first of this winter's cold weather payments in NI has been triggered following the recent drop in temperatures.
A total of 52,000 people are to benefit from the £25 payment.
£1.3m will be paid to those who qualify in postcode areas covered by the Met Office's Castlederg, Glenanne and Katesbridge weather stations.
Minimum temperatures in NI on Monday night included -8.5C in Castlederg and -5.8C in Enniskillen.
The Department for Social Development said the postcode areas able to qualify for the payment were BT24-26, 30-35, 60-71, 78-79 and 81-82.
Only those qualifying customers living in these postcodes will receive the payment.
The department said they could expect to receive their payment on Wednesday.
Social Development minister, Alex Attwood, said: "This £25 payment is a help for people in need, especially at a time when they are facing uncertainty over how the UK government will support them in the future.
"As the temperature continues to fall it is important that we do all we can to make sure that those most in need in Northern Ireland are kept warm and comfortable in their homes."
The Social Security Agency will make the payments automatically to qualifying customers and there is no need to make a claim.
The cold weather payment is available when the average temperature is recorded or forecast to be zero degrees celsius, or below, for a period of seven consecutive days.