Parties 'working hard on budget' - Peter Robinson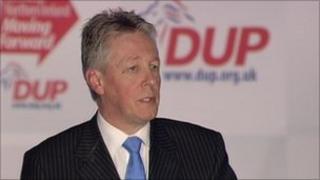 First Minister Peter Robinson has said he believes the NI parties want to negotiate an agreed budget and there is serious engagement on the matter.
He was asked by the SDLP's Declan O'Loan if groups funded by the Executive may have to send out 90-day protective redundancy notices to staff.
Mr Robinson acknowledged this was a concern.
He said this was a further reason why it was important to get a political deal on the budget before Christmas.
Mr O'Loan said a budget had to be agreed as a matter of urgency.
"The two main parties need to get down to business, start drawing up a budget and stop dithering," he said.
Earlier this month, Finance Minister Sammy Wilson warned time was running out to reach agreement on a budget.
He said he wanted a decision by the end of November to allow proper scrutiny and consultation.
However, Sinn Fein Deputy First Minister Martin McGuinness said his party would not be rushed into making a decision that failed the community.
Stormont is the last devolved administration in the UK to agree a budget.