Enniskillen boy 'texted then stabbed' rival, court told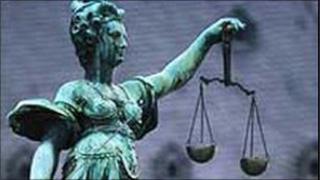 A teenager was stabbed twice in the head after a love rival set up a confrontation by text message, it has been claimed in the High Court.
Prosecutors allege a 17-year-old boy inflicted the non-fatal wounds with a steak knife in a row over a girl in Enniskillen, County Fermanagh.
The attack was said to have occurred when two groups clashed in a public park in broad daylight on 12 November.
The suspect denies wounding with intent and possessing an offensive weapon.
He was refused bail by a judge who ruled that the risks of releasing him were too great.
Crown counsel Nicola Auret said the victim, also 17, was found near a pub in the town bleeding heavily from head wounds. The extent of his injuries was not disclosed.
The accused, who cannot be named, was arrested in a nearby flat.
Ms Auret said the dispute appeared to be over the suspect's girlfriend, who the victim had previously been in a relationship with.
She alleged that the accused sent a text to the other teenager warning he would be stabbed, telling him to watch himself, and arranging a meeting.
'Words exchanged'
The court was told two groups then met at Forthill Park where words were exchanged over the girl.
According to the prosecution the accused and his associates were chased out before the victim confronted and struck him.
"The applicant proceeded to stab down twice on the injured party's head," Ms Auret claimed.
Michael Boyd, defending, disputed claims that his client sent the text message.
"His case is he heard a rumour that this man wanted to fight him and wanted to meet him at noon in the park," the barrister said.
"The applicant foolishly decided to go along to see if this was true."
Mr Boyd also stressed that the accused denied either having the knife or any knowledge of how the wounds were inflicted.
But denying bail, Lord Chief Justice Sir Declan Morgan stated the injuries were sustained following a confrontation between groups of youths in the middle of the day.
"It is a matter of serious concern that this incident was one that occurred in a public place," the judge said.