Dentist Howell's wife cries out to son as she is gassed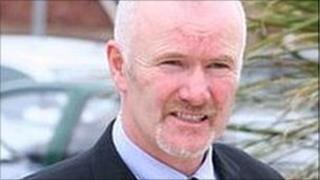 The murdered wife of killer Colin Howell called to her eldest son as her husband gassed her, a court has heard.
A prosecution lawyer said Howell confessed to police that his wife, Lesley, cried "Matthew", as he held a gas pipe to her face.
The lawyer said Howell then dressed her body, put her in his car boot and drove to his former lover's home.
There, he gassed her husband, police constable Trevor Buchanan in May 1991.
The lawyer said that Howell, a 51-year-old dentist from Glebe Road in Castlerock, confessed to police that he and his rival had struggled and that his victim "looked at me" before he pulled a quilt over his head and gassed him, just as he had done with his own wife.
The court heard that Howell used poisonous gas to kill both of his victims in May 1991.
He attached part of a baby's feeding bottle to a garden hose to poison them with carbon monoxide fumes from a car exhaust as they slept.
The bodies of Lesley Howell, 31, and Trevor Buchanan, 32, were found in a car full of exhaust fumes in Castlerock in 1991.
It was initially thought they had taken their own lives. An inquest held in 1992 found that the pair had died as a result of carbon monoxide poisoning in what appeared to everyone to be a tragic double suicide.
The case was re-opened last year when Howell handed himself in at a police station.
The court heard that he kept the secret for almost 20 years before eventually confessing to detectives after losing more than £350,000 in a bid to find missing gold in the Philippines - a project which turned out to be a scam.
In Belfast Crown Court on Monday, a lawyer said Howell also told police that he had dressed Mr Buchanan and put him into the boot of his car along with his murdered wife and drove them to a house on Cliff Terrace in Castlerock, known as the 12 Apostles where he put the dead police officer into the driver's seat and his wife lying outside the boot.
The lawyer said Howell admitted that he put family photographs around her body and placed a "reflective" letter his wife had written on the kitchen floor of their home to make it look more like a suicide pact by the wronged spouses.
He said the murders by the dentist might be described as "professional", as they had been "meticulously and deviously planned".
Howell's lawyer said the crimes were "monstrous" but said his client should be giving credit for his confession.
Howell was a highly-acclaimed dentist and a lay-preacher.
The court was told that in recent years Howell had "realised he was a fake" and wanted to be "real", and that is why he confessed to the police
Earlier this year he pleaded guilty to the murders.
Howell, a father of 10, was told in court on 18 November that he would be jailed for life with his minimum term to be determined at a later date.
In court on Monday, a judge told him that he would decide on Friday what minimum term he will have to serve before being considered for release.